A cooling gel pillow is made with memory foam conforming properties to ease pain and pressure points. Below are the best of Solace Sleep products. Let our customers' reviews say for the product itself.
There are many kinds of pillows and some of them are infused with cooling gel, a substance that helps cool and maintain a comfortable temperature when sleeping. However, not all gel-based pillows create a cooling effect. That's why we have this buying guide for you to decide the best cooling gel pillow for your needs.
What is a gel pillow?
Gel pillows are cushions infused with gel layers or fillings to absorb body heat and provide a cooling effect instead. Some pillows are made of removable gel layers in the exterior of the cushion, while others have instilled gel beads inside the material.
Memory foams are often used in gel pillows because of their soft and contouring properties to alleviate pain. However, since memory foams retain heat, thus poses a challenge to most sleepers. Manufacturers help disperse heat by integrating gel layers to provide sleepers a cooler experience.
Why buy gel pillows?
Instead of regular pillows, you might ask why you should buy gel pillows instead. People have unique preferences when they sleep but comfort is one thing they often look above all aspects. Here are the reasons why you should try gel pillows.
Cooling comfort through the night
For people who sleep hot or suffering from night sweats, like expecting women, they'll find comfort using cooling gel pillows. Lowered nighttime temperature can help the body induce melatonin to ready our bodies for sleep.
Pressure-relieving comfort
Cooling gel pillows are made of memory foam that uniquely conforms to your head and shoulders. This adjustable support with cooling effect lets you sleep in comfort while relieving aches, pain, and pressure points.
They're hypoallergenic
Some pillow fills like latex, feather, or down, can trigger allergies. However, cooling gel pillows are not easily susceptible to mites that trigger these allergies.
Perfect for side sleepers
Soft cushions are ideal for side sleepers as they need ample support for their head, neck, shoulders, back, and spine. Cooling gel pillows mold the body in its natural curves and prevent aches and injuries in the morning.
You might believe that a nice mattress is needed for a good night's sleep, but a pillow is just as important for sleep quality. The best cooling gel pillow should provide comfort, support, and coolness.
How to buy the best gel pillow for you?
When shopping for a gel model, there are factors needed to be considered than comparing different brands. What's your sleeping position? What are the conditions are you experiencing right now? Here's our guide to choosing a cooling gel pillow for a good night's rest.
Existing medical conditions. Are you an expectant mother experiencing hot flashes? Or someone who sleeps hot every night due to a diagnosed illness? Whether it's the weather or not, cooling gel pillows relieve the heat and pain. For those who have back or shoulder pain, a gel pillow made from memory foam will alleviate soreness.
Sleep positions. Memory foam gel pillows are best suitable for side sleepers for adequate support on the upper body. It will help bring out its natural curved position from the head to the lower back. Meanwhile, those who sleep on their backs and stomach will find comfort in denser memory foam pillows.
Pillow type. Pillow type can be based on a lot of considerations. For instance:
Is your cooling gel pillow reversible? You have the option to choose reversible sided pillows if you have varying needs at night. You can always flip the cushion from gel to non-gel.
Soft or firm material. Memory foam pillows come in different density, each suitable to one's needs.
Pillow covers. Most covers are made of cool nylon mesh fabric for better breathability and ventilation.
Gel pillows come in different shapes and sizes. Most of them are curved or regular pillows aiming to alleviate certain pains and aches.
Solace Sleep Best Gel Pillow
Solace Sleep provides only the best cooling gel pillow in the market for people seeking a refreshing sleep. Our top-notched cushions absorb body heat while alleviating pain and pressure points in the body.
GelMax Memory Foam Contour Pillow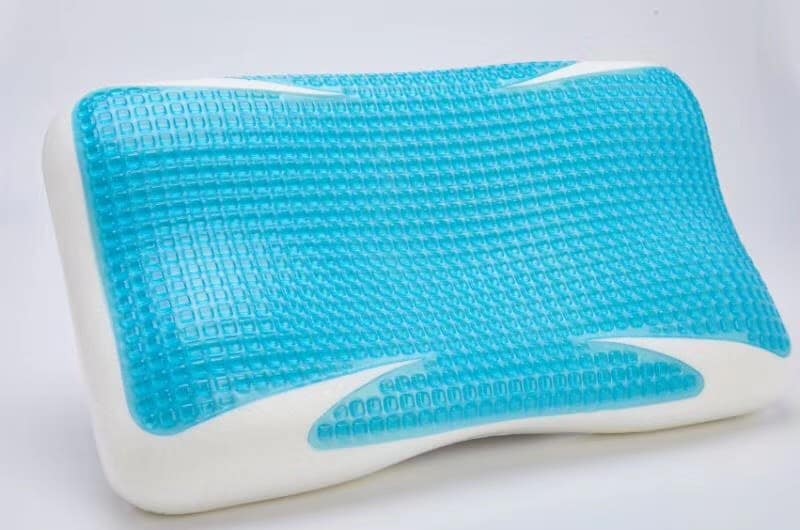 Revolutionary GelMAX technology provides maximum cooling and comfort.
Pressure-Relieving Support
Cooling Comfort All Night
Revolutionary GelMAX Gel Overlay Stays Cool Longer Than Other Products
GelMAX™ Proprietary Time-Release Technology Continuously Provides Maximum Cooling Throughout The Night
Improved Head Cradling and Adjustability Design
Feel cleaner and cooler all night thanks to the powerful benefits of copper.
Naturally occurring ions inhibit the growth of all odor-causing bacteria
Plush, conforming, high-density gel memory foam that gives enhanced comfort
Gel memory foam draws heat away from your head for a refreshing, cooler sleep
Best for side and back sleepers, thanks to the higher profile
Healthier for you and the environment
Luxurious hotel quality at the comfort of your home.
The mini pocket coils independently conform to the contours of your head and neck
Contoured support helps to relieve tension and back pain
Encourages airflow for breathability and freshness
Responsive durable spring system ensures that your perfect contour pillow will bounce back to shape for years of supported, peaceful sleep
Luxurious hotel quality