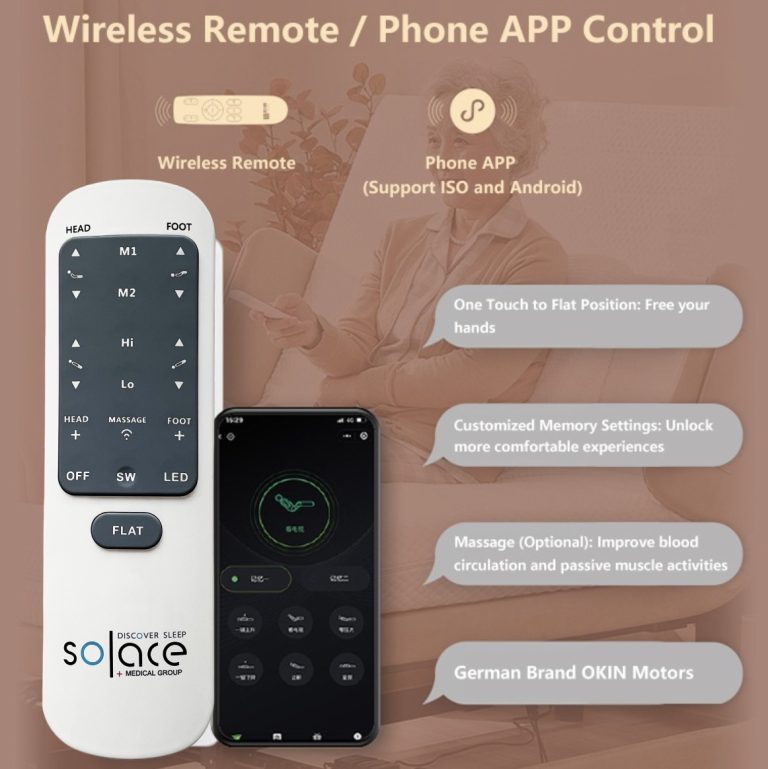 King Single 107 x 203cm

Long Double 137 x 203cm

Queen 153 x 203cm
Does this AT comply with relevant AT Australian Standards (or ISO AT standards)? If yes, which standards:
ISO9001 is our global certification that sets out the criteria for quality management and is part of CE electrical standards
withinour manufacturing.
ISO14001 is our global certification that sets out the criteria for environmental management within our manufacturing.
ISO 13485 is our global certification that sets quality system for medical manufacturing and is part of CE electrical
standardswithin our manufacturing.
ISO 9999:2016 establishes a classification and terminology of assistive products, especially produced or generally available,
forpersons with disability.
AS/NZS 61558.2.16 2010 Australian Electrical
SafetyStandards.
IEC 61558-1 and IEC 61558-2 Electrical standards.
TGA: Australian Register of Therapeutic Goods (ARTG) Medical Device Class 1 (including adjustable bed, mattress, lift chair).
IEC 60601-2-52: meet the standards set for medical electrical equipment - particular requirements for the basic safety and
essential performance of medical beds (e.g., bed rail).
We are all about our customers' needs
Why Choose Transfermaster Plus?
Hospital bed features in the comfort of your home
If you've heard about iCare 333 Homecare Bed from Aidacare, you should SERIOUSLY consider Transfermaster Plus hi lo bed from Solace Sleep, which meets the world's first 5 sections full features adjustable bed with hospital functions that doesn't have the hospital bed look. 
The Transfermaster Plus beds are specifically designed to allow head, foot and vertical adjustment. The Hi Lo bed conveniently rises at a height that lets you walk safely out of bed or for people need assistance transferring at different height levels. Many features—from variable massage to the backlit wireless hand control. It's the perfect bed for users who want comfort & functionality.
Impressive low height of 250mm. International clinical studies have shown the benefits of sleeping low and eliminating side rails to resident safety, welfare & comfort, in particular by lowering fall rates and fall injury severity.
Designed To Meet
NDIS & My Aged Care (MAC) Requirements
And The Assessment Of Occupational Therapists (OT's).​
Designed To Meet
NDIS & My Aged Care Requirements
And The Assessment Of Occupational Therapist​
Auto Regression: helps to reduce sacral pressure, shear forces and abdominal compression during bed profiling.
Exit Safe: one button press to Exit Safe preset position, moves to a flat and ergonomic position at the optimum height for user ingress/exit.
Underbed Light: allows discreet visibility and safety at night.
Caring Position: unlimited angles and height adjustment facilitate the carer for the caring activities.
Chair Position: for improved pressure management and respiration. Also a more comfortable dining and siting position.
Full +/- Tilt Trendelenburg: ideal for people with a disability, to provide greater independence, ease of positioning whilst in the bed, safely transfer in and out of the bed.
Different Types of Comforts, at the touch of a button
Experience unlimited positions to relieve pressure on your body.
Sharing the bed? The King and Super King Adjustable Bed supports separate control.
The King & Super King adjustable bed base support 2 mattresses for a split sleep setup with 2 Sync or separate controls.
Relaxation at your own time. Drift off to a massage every night with the Soothing Massage vibration therapy built right into your bed.
We only use the highest quality materials & Componentry
We stand behind our beds with a REAL 25 Year Guarantee
safe, reliable & designed for comfort
We only use high quality german okin motors
Okin is the world's leading provider of drive technology for comfort beds. Covering the entire product range for adjustable comfort beds that can be used in mid-range to high-end applications.
Our remotes are wireless. Meaning they are not posing a tripping hazard. We have more features built right into the remote:
You might also like these products